My teenage years are vivid. After a childhood marred by sadness I relished in the independence of being able to rebel. I was shaped by those wild years, though the only physical evidence remaining are the scars on my arms, my teen years have made me an uncommonly calm adult.
I met Daisy when she was 15. I had been teaching in the small country town where she lives and one of my students had casually mentioned she knew of "a bunch of girls who got pregnant at 14". The first day I met her she arrived in a leopard print dress, looking like a doll that had been dressed to look grown up. Her mother , an exceedingly kind woman who suffers from debilitating illness, told me she could not control her daughter whom she nicknamed "Cyclone Daisy" Our friendship developed with the speed and intensity reserved for teenage girls. The instant reach of social media meant she could contact me constantly and, being that I was not an authority figure in her life, she was unfiltered and open with me. The next time I saw her she had a boyfriend, Cam, who looked much younger than Daisy when she was made up and posing for my camera. Cam would proudly tell me about his petty crimes, showing me photos of his graffiti and images of him with his friends drunk throwing gang signs. Daisy would listen on, devoted in her puppy love of him and wanting my approval. Their relationship lasted 12 or so months, becoming more and more volatile. Neither of them attended school and would spend their days in Daisy's caravan smoking and fighting. I never met Cam's parents but he told me they did not care about him living with his girlfriend. Daisy tells me rumours that he is now in trouble with the law, something I still find hard to reconcile with the baby-faced boy I knew.
Daisy struggled with her mental health, self-harming and engaging in dangerous behaviour. Her isolation was compounded by her mother's sickness, she often said to me all she wanted was to be able to spend time with her Mum like other girls.
Daisy had few friends visit but she would speak often of her cousin Shania. Her mother did not want the two girls spending time together saying they were a terrible influence on each other. I would hear stories of Shania's hard upbringing and how it had shaped her. When Daisy called me to say her mother had relented and Shania was staying with her and that I should come photograph her, I didn't know what to expect. Shania greeted me with a nervous smile, her overly made up eyes large and soft. I could see little of the toughness I had heard of, she struck me as having none of the confidence of her slightly older cousin. She showed me photos of her little sister, Teeya, and asked if I could come photograph them in the city where she lived.
Shania was in constant contact from that day- sending me selfies for my approval, texting me her streams of consciousness and calling me. Her home life was chaotic, she lived with her father and had been estranged from her mother since birth. She told me she suffered from depression and coped by self-medicating. She had a stream of boyfriends, always asking me if I thought they were "cuter than Cam". She continued to idolise Daisy from afar, saying how much she adored Daisy's young son, and how beautiful Daisy is.
Crime and drugs became part of her life and I struggled to know of the best way to help her. She would say I was the closest thing she had to a mother, words that stung me as I knew I could not in fact intervene the way she needed a parent to. After a heated discussion about her life choices she blocked my number and I heard nothing from her for 5 months.
I received a friend request from 'JohnandShania'. She had a new boyfriend who was slightly older and was living with him. I came to visit her, shocked by how much healthier she looked and overwhelmed by the difference in her living conditions. She pulled me aside to tell me a secret
"I'm pregnant, it's early don't tell anyone". Her daughter, Ellie Jean, is now one and Shania is determined to give her the childhood she did not have.
Shania's little sister Teeya is the youngest of the girls but her confidence outweighs both her sibling's and her cousin's bravado. 12 when I met her she asked if I could photograph her even though she wasn't quite a teenager. Through Shania's silent months I would check in with her, she had stopped going to school and started to send me images of herself heavily made up wanting my approval. Her fights with her sister took on a greater intensity once Shania became pregnant, with both girls sending me furious messages as I tried to play peacekeeper. At 15, Teeya messaged me excited to say she had a boyfriend she was serious about. I photographed the two of them, he is a polite boy, shy around adults. She moved out of home to be with him and left school. I messaged her earlier this month and she responded saying she couldn't see me as she has been vomiting with hyperemesis gravidarum in the early stages of pregnancy.
In continuing to photograph them I watch the cycle begin to re-establish. Daisy is 20 now but has no employment prospects and has not been able to continue her education. She spends most of her days in her caravan on social media but has dreams of being a nail technician. Shania will be moving away with her daughter and boyfriend at the end of the month. Teeya is determined to attend school once her baby is born. Though she is no longer with her boyfriend she is hopeful they will be able to co parent.
The images are record of our time together, the girls perform for me in front of the camera, never relaxing in its presence. In that way they are allowed agency over their representation- they are smart girls and know how tough their lives are. My role as a photographer is secondary to our relationship, I am constantly shocked how open they are with me and how, despite their bravado, they need an adult ally in their lives. I hope to continue the series as the girls become women and remain ever hopeful for their futures.
"In Teenage Wildlife, Morganna Magee composes a revealing and beautiful place capable of teaching us that even as adults, our wounds heal, showing a scab that suggests a moment of transition." Curator Pietro Daprano 2021.
Images from Teenage Wildlife have been exhibited nationally and internationally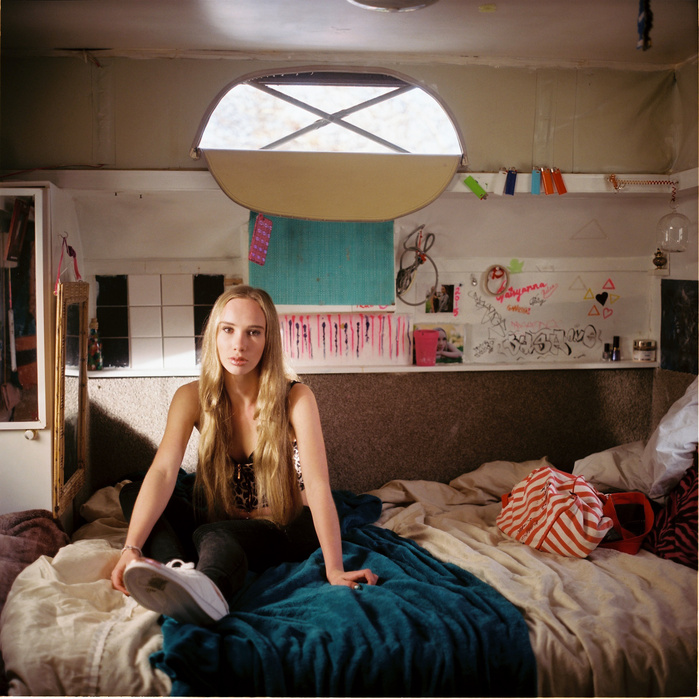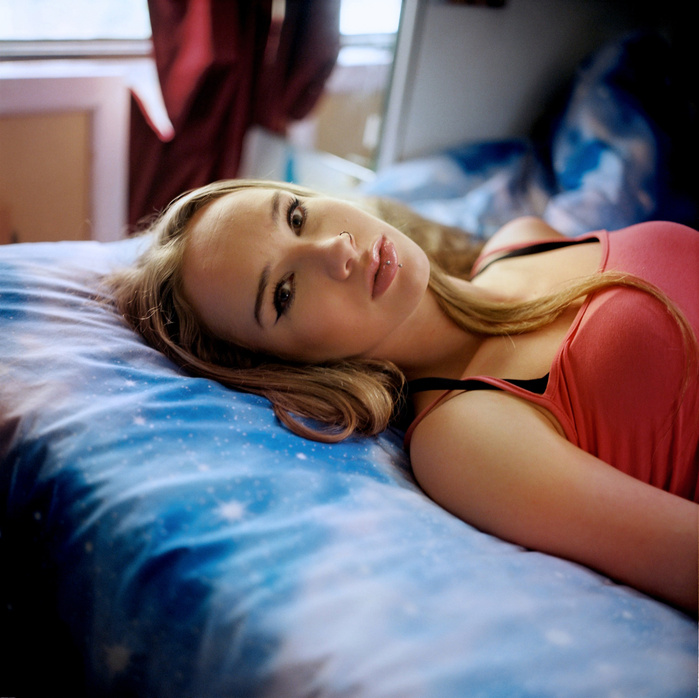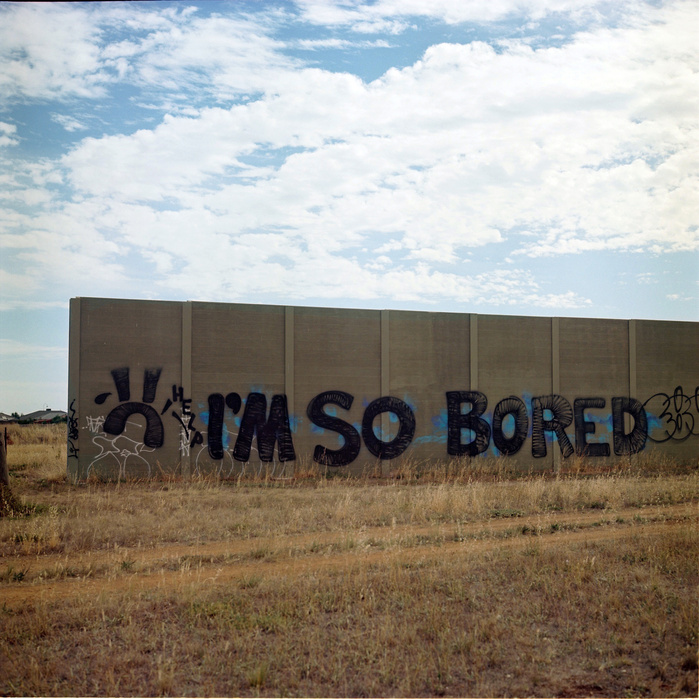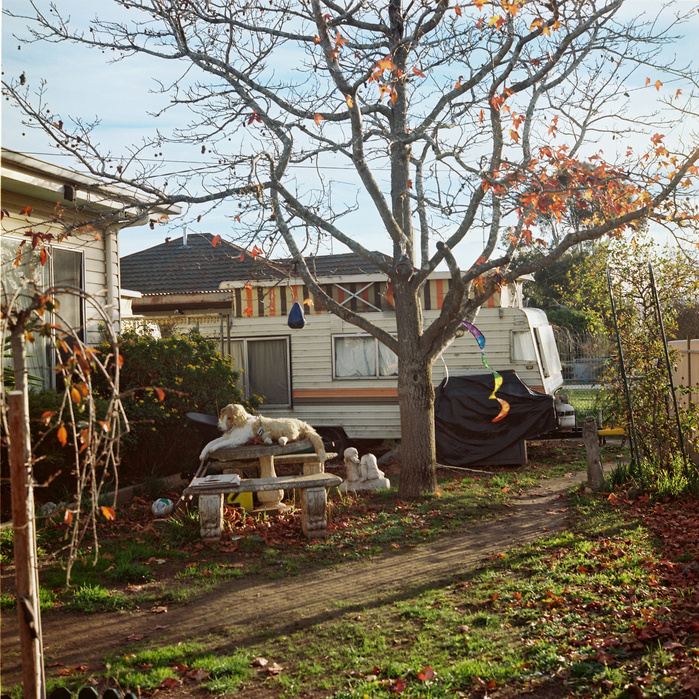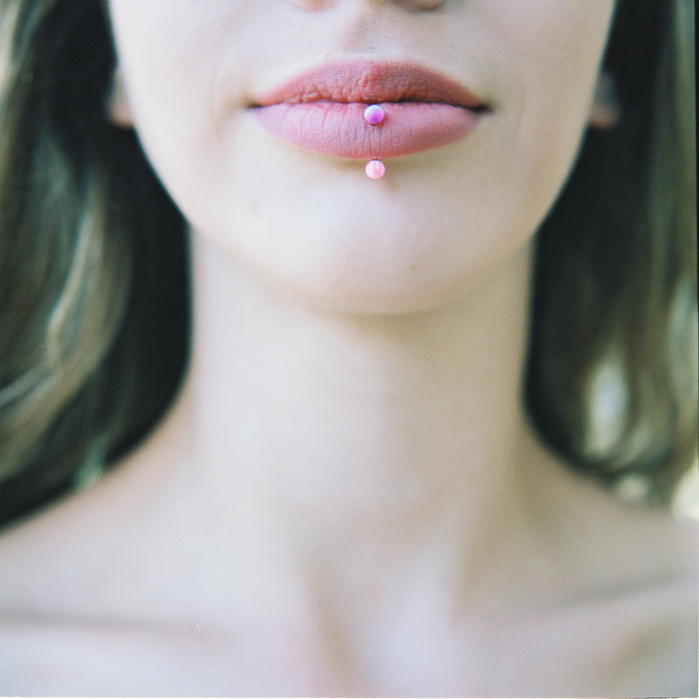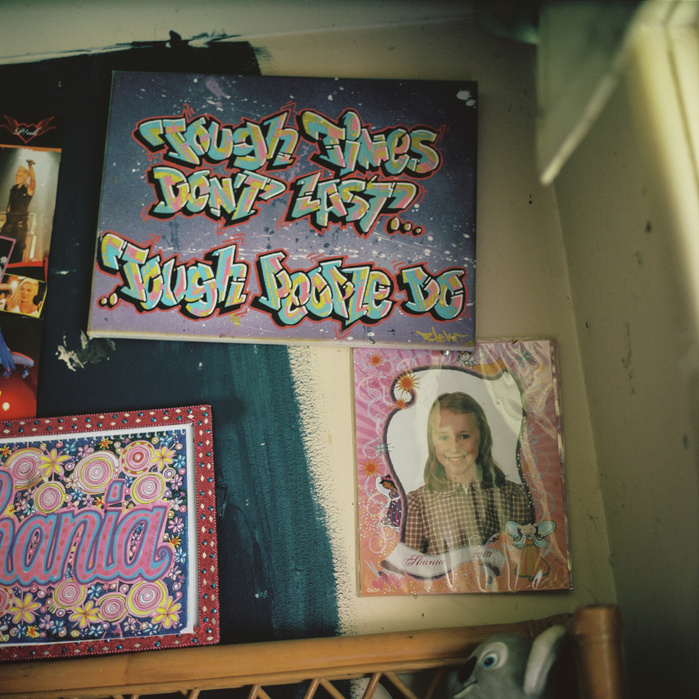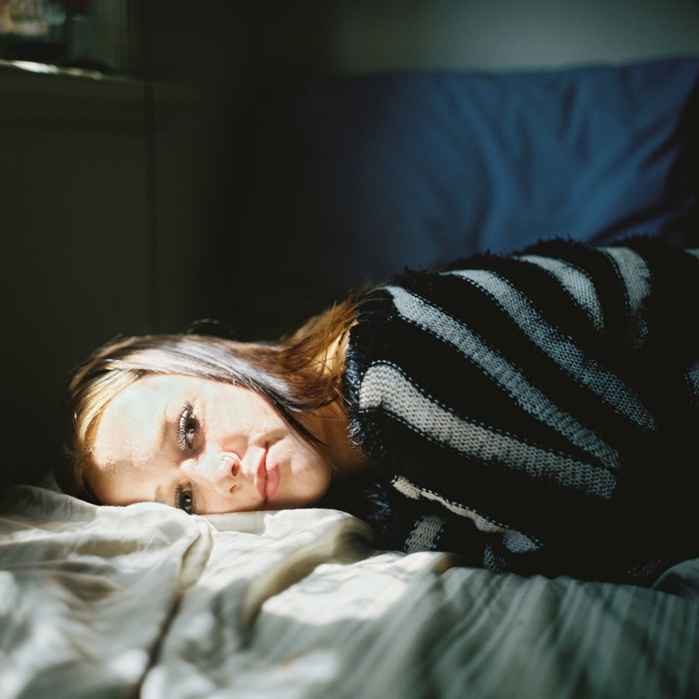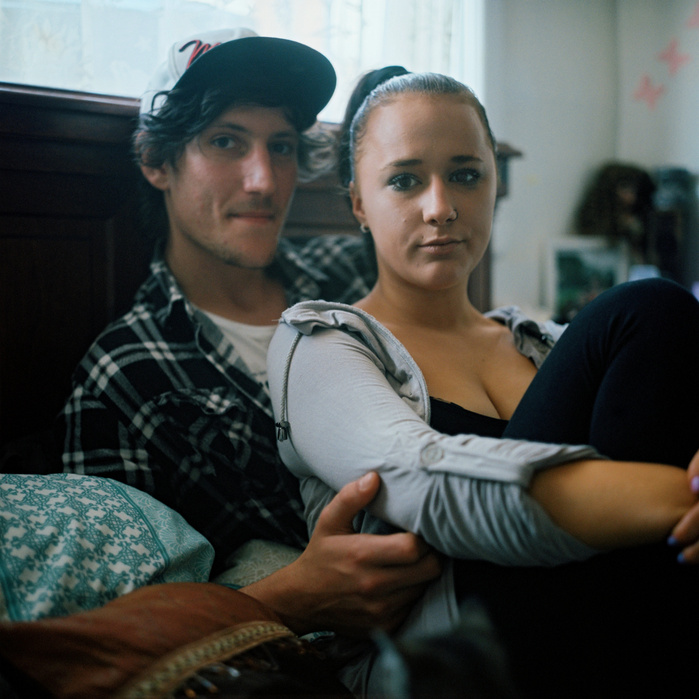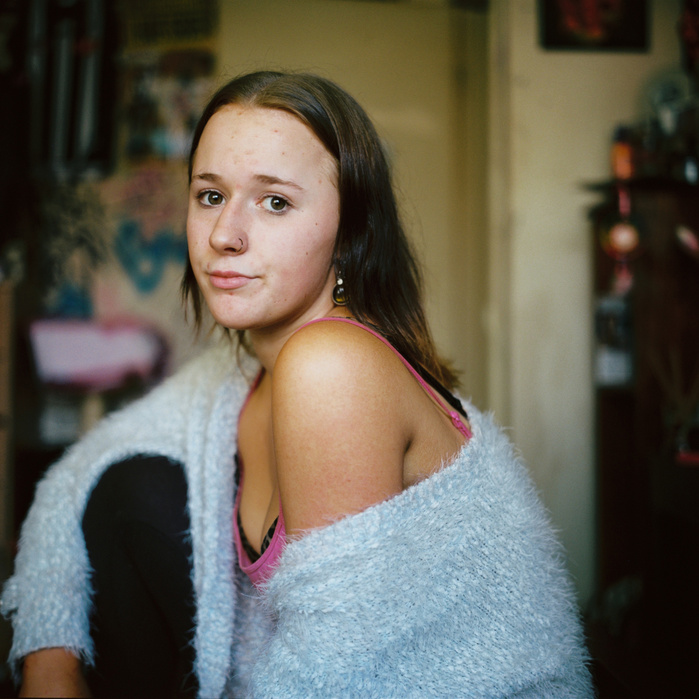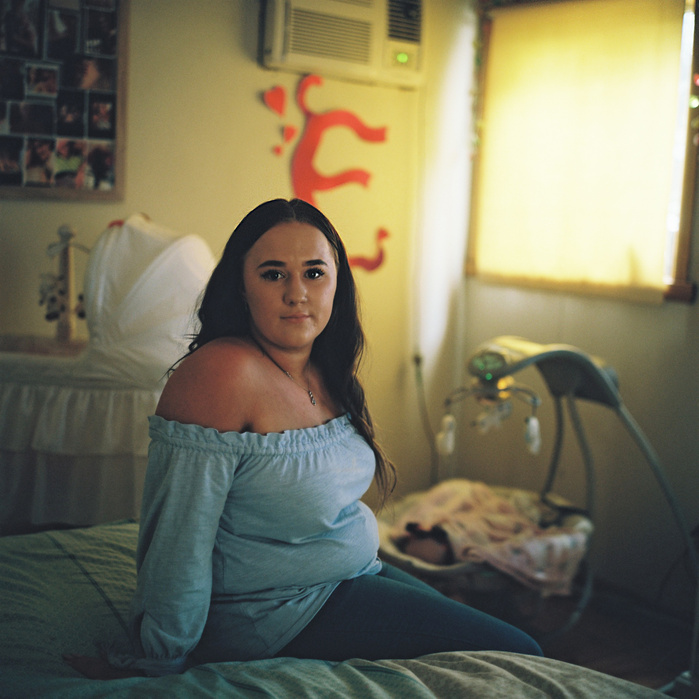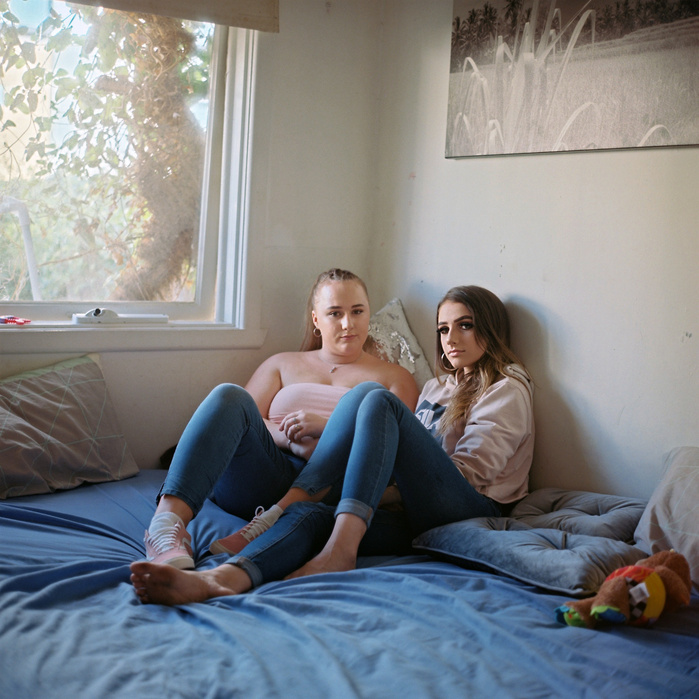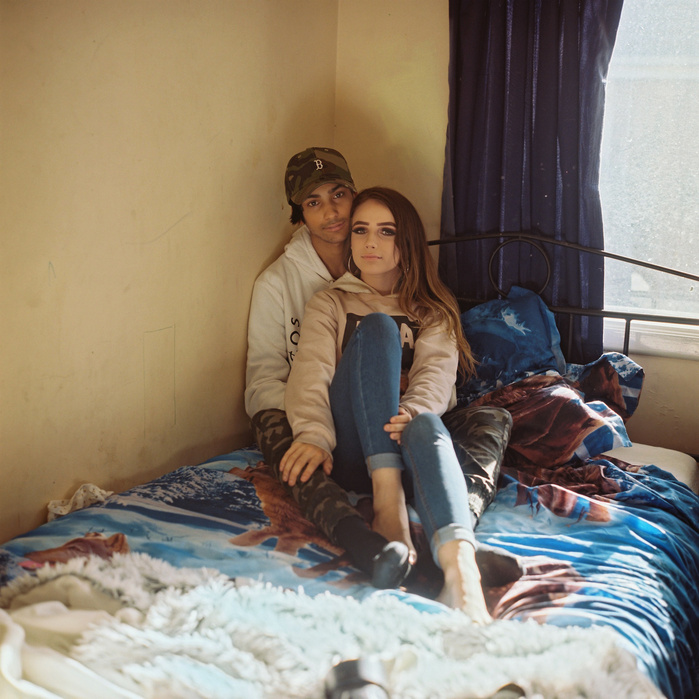 Exhibition opening Speech from Eminent photographic artist Ruth Maddison.
For Morganna's opening, Teenage wildlife 29 August 2019, Counihan Gallery, Melbourne.
Morganna and I met about 4-5 years ago, and since our instant connection from across a crowded room, we have had many terrific conversations about our respective projects, and that has included the ongoing development of Teenage wildlife. I'm really happy to be sharing tonight with you Morganna. Thank you for asking me to launch your 2nd solo exhibition.
Teenage wildlife.
I'm going to say something about two of the many layers of Morganna's work that are particularly striking for me.
Have you seen the 1953 movie, The Wild One? Marlon Brando.
The famous lines:
A girl asks: Hey Johnny, what are you rebelling against?
Johnny (Brando) says: What've you got?
And for several generations now rebellion has been the natural state of teenager hood.
But Daisy, Shania, Teeya - what are they rebelling against? They don't seem to be rebelling against anything. Not rebelling against a parent or parents, & in fact would like more love, more time with parents.
Dealing with our own damage, or our surrounding damaged circumstances, is monumentally affected by class. Class and choice are tightly interwoven, and for me, Teenage wildlife speaks loudly to class. It's not inevitable, but class at the very least affects choice, and often defines choice.
When I look at the quietly loaded image of Daisy and her mother Kathy, which is maybe the most powerful and poignant image in the series for me, I think: what did Kathy look like at Daisy's age? How did she present herself to the camera as a 15? What were her dreams for her own life at Daisy's age? And… can Daisy break the cycle?
I WANT the girls to rebel. I don't want to watch the cycle re-establish.
But Daisy, Shania & Teeya – all dropped out of school, all pregnant in their early teens.
Morganna said to me:
Troubled boys often move into petty crime…or not so petty.
Troubled girls get pregnant.
And, as Morganna also said – those years from about 16 into our 20s - are when you have the most fun. Exploring, trying a lot of things. Having a good time.
But if you are pregnant at 14, 15, and drop out of school – what is your fun? where is your peer group? Who are your role models? And if you have a parent or parents who are in trouble – financial, physical, mental - where is your support, your affirmation of self?
About 2 weeks ago, at home thinking about tonight, I heard a song and I thought – this is the theme song for Teenage wildlife. It's a golden oldie - Mr. Sandman, 1st recorded by the Cordettes in 1958,
Mr. Sandman, I'm so alone
Don't have nobody to call my own
Please put on your magic beam
Mr. Sandman bring me
Please please bring me
Mr. Sandman bring me a dream.
Teenage wildlife is as much about the development of relationships between a social documentary photographer - someone who cares - Morganna, and her three subjects, which quickly became complex and close & complicated.
Morganna has had relationships with Daisy, Shania and Teeya over 5 intense, troubled and loving years. She has played an important role in the girl's lives. As she says: an adult ally.
"Shania would say I was the closest thing she had to a mother – words that stung me as I knew I could not in fact intervene in the way she needed a parent to"
And there it is– being a trusted adult in a troubled teen's life but not in the family, is a particularly fraught relationship. You have a special intimacy with the teens, but you have no control or power, so you are really negotiating with yourself all the time in the light of seeing self-inflicted dangerous and damaging behaviour. It's a major balancing act for anyone in that situation.
Morganna isn't just 'the trusted adult' and the photographer. She loves these girls, she identifies with these girls. She had her own difficult years as a teen.
We all want connection and we all want to give & receive protection, and we all want freedom. So, there's the conflict. How much do I give to you? How much do I give to myself?
Teenage wildlife is an intimate portrayal of three troubled young women who willingly and openly connected with Morganna & allowed her to make and exhibit and publish this work. My heart goes out to Daisy, Shania and Teeya, along with my best hopes for their futures.
Congratulations Morganna - wonderful tenacious Morganna - for the exhibition, and the publication of your book. Two mighty achievements coming to fruition simultaneously. You've working really hard for this night.
For me, Teenage wildlife is extremely thought-provoking, confronting, heart-breaking and heart-warming.
Thank you.